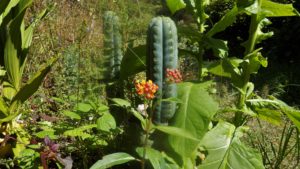 The purpose of an apprenticeship is to allow time to become familiar with the medicine and yourself. During this time you will find your way as a healer such as an energy worker, working with plant spirit, spiritual counseling, and others. This will provide helpful intuitive insights for your future participants. After your apprenticeship if you choose to conduct ceremonies people will be hiring you as a guide, this implies that you have been there and are able to guide people back. After drinking twice a week for 2 years you will certainly have that skill having had most possible journeys with the medicine. Also during the apprenticeship old patterns and behaviors that no longer serve you have fallen away and a new foundational belief system emerges that will serve you and your participants very well.
The San Pedro apprenticeship program is a commitment to the San Pedro medicine to drink twice a week for 2 years. A commitment to this facility is also required. This can be anywhere from a few months to the full 2 years. By keeping these commitments separate this allows the apprentice to be of service to other facilities and shaman while still keeping their commitment to San Pedro. The commitment to this facility/program consists of being in service during every San Pedro ceremony, cleaning the facility, running errands, occasional yard work, preparing medicine, and helping to cook medicine.
The monthly cost is $ 500. It includes your medicine and your room. You are responsible for your food and preparing it. Individual plans can be set up that honor your available time. Contact us for more information or to make a plan that fits for you.